September 30th, 2015 | Published in News
For Good
Purple Light Walk raises domestic violence awareness
JAYNA BARKER | TUESDAY, SEPTEMBER 29, 2015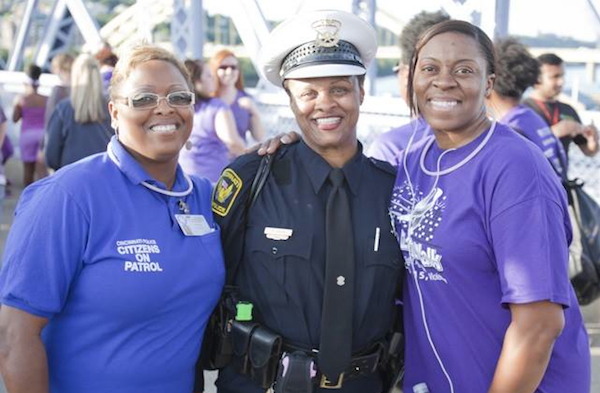 The Purple Light Walk
 asks the community to talk about something that's really difficult to discuss: domestic violence. A countless number of women are forced into sex and/or beaten and abused throughout their lifetimes, and that number is rising every day.
This year's Purple Light Walk will take place Oct. 2 at Washington Park beginning at 7 p.m. and will loop through downtown Cincinnati. The annual event, which takes place every October during Domestic Violence Awareness Month, is returning for its third year.
"The Purple Light Walk is one of many ways that Women Helping Women strives to support survivors of abuse," says event co-chair and Women Helping Womenlaw enforcement advocate Ellen Newman.
The walk was created by Women Helping Women to help raise awareness and empower domestic violence survivors. The organization provides crisis intervention services for survivors of domestic violence, sexual assault and stalking.
The Purple Light Walk is a collaboration between Women Helping Women, YWCA of Greater Cincinnati, Cincinnati Police Department, KeyBank and Zonta Club of Cincinnati.
There will be a raffle, food and music prior to the walk as well as a program beginning at 6:30 p.m. emceed by Officer Princess Davis, who coordinatesCitizens on Patrol at Cincinnati Police District 1.
Registration for the Purple Light Walk is free. The first 100 participants will receive a free 2015 Purple Light Walk event T-shirt, and everyone who walks will receive a purple glow stick to carry during the walk, Newman says.
Do Good:
• Walk for someone you know or a stranger who has been a victim of domestic violence. Registration is free.
• Follow the Purple Light Walk page on Facebook.
• Contact Ellen Newman for more information.